Why Aztec ?..
Aztec's unique design offers a flexible cost effective conservatory roofing system with a proven track record, by using Aztec's system you can design and specify a roof using a complete range of options, whether you are looking for an entry level system or ramping up to a fully integrated installation with finishing extras such as up lighting and decorative panels.
Each element of the system can be custom designed to suite each individual installation. Aztec roofing systems allow us to offer the simplest of installation processes while maintaining options, for instance the roofing structure can accomodate either poly carbonate or glass glazing options with only a change in the end closure, this allows us to design a roofing system and offer the customer a choice of glazing options to suite any budget. For us this flexibility enables our customers to stay one step ahead of the competition, while reducing the complexity of having to offer systems from different manufacturers.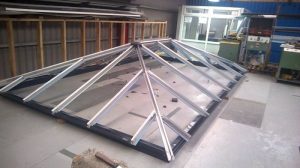 Custom made in our factory.